Flowing Lands is a projective media artwork aims at delivering complicated feelings from two different spaces. To be more accurate, by combining the eight small videos about UK and China from household affairs to society levels, Flowing Lands wants to reveal the contrast between the real and the fantasy. Initially, as a documentary practitioner, I feel tired of using single screen to show videos and want to explore a new exhibition way. Inspired by 3D and multiple dimensions digital image designs, I wonder if I could make a real multiple dimensions models and put my videos on. Additionally, for contents part, I chose scenes from daily lives in both UK and China because I think it would be interesting for visitors to see their familiar or unfamiliar scenes from fragmentized and multiple dimensions screens.
Critique results
1 For equipment part, I need to decorate or hide the projectors, tidiness and concise are the key points to arrange artworks. It would be better to hide the projectors and make visitors feel inconceivable when they saw multiple dimensions videos in the corners of the room.
2 For contents part, due to excessively distinguish between UK part and China part, which would limit visitors' imagination. Artist should not convey a too specific meaning for an artwork. On the contrary, ambiguous would raise more interests and controversies among the work.
Exhibition process
Stage one: Setting up an Exhibition Planning Committee
Responsibility and great teamwork are the key points to hold a successful exhibition.We had eight artist participated in this public event project, including Mirela Bistran, Jodie Dunnil,Helen Shaddock,Yein Son and Liying Zhao from Fine Art department, Tan Zou, Bartira Sena and Li Qingchan from Creative Arts Practice. Firstly, we set up Facebook group and public Email for easily communication. Secondly, we divided artists in small groups to take responsibilities in exhibition process. Specifically, Mirela and Bartira were responsible for exhibition statement. Jodie and Zhao were responsible for poster design. Yein and Li were responsible for Facebook information upload. Helen was for students contact and my job was for refreshments arrange.
Stage two: Negotiation of exhibition title and site
As a team exhibition, it is important for all artists to understand the exhibition goals and be committed to attaining them.We had two meetings to discuss the exhibition title. By choosing from Snippet, In Between and Crossroads, we finally decided to use Snippet as our exhibition title. Just like the group statement reveals "A fragment. A glimpse. A squint to unveil the work of artists exploring painting, sculpture, textiles, sound and video. Geometric colourful shapes along with abstract moving images and experimental sculpture are brought together in SNIPPET. The works shown are manifested from the tensions between painting and sculpture, society and technology."
(Link to:Poster and Snippet-ExhibitionStatement)
Moreover, we booked three exhibition sites: Long Gallery, Tic Space and Small Project Room. I and another artist who displayed the light box wanted to share the project room due to the limited exhibition sites, the main issue for me was the light problem. I thought the light from the light box would have some effect for my work.  Inicially, I planned to use a white curtain to divided the project room into two spaces, but I discarded  this idea after discussing with the artist.We thought we need to consider the exhibition as a whole while the curtain would destroy the integrity of it. Finally, I reduced the effect of the light by adjusting the placement of the work and enhancing projectors' brightness.
Stage three: Publicity and Preview show
When finished all the preparatory work, we planned to do more propaganda to appeal visitors. On one hand, we used social medias to upload and propaganda the latest exhibition information, on the other hand, we printed posters to paste in public places(including teaching buildings, library,student accommodation). The preview show was very successful. Artists stood by their works and communicated with visitors. It was a good chance for artists to critically evaluate their works.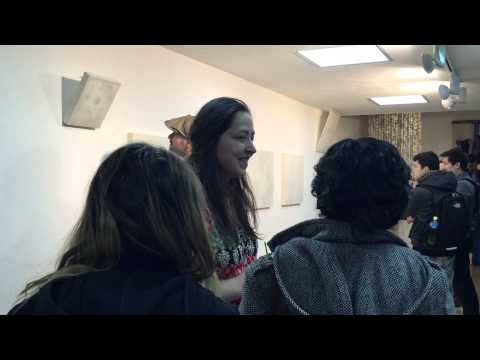 Conclusion
From the process of exhibition planning, I learnt a lot from it:not only the improvement of aesthetic part, but also many practical skills. In the future, I would like to do more creative attempts in visual field.